Michelle Lewis - Practice Manager
Michelle is our front-of-house expert and has been at The Oaks since she was 19. She tried working elsewhere, but soon returned to her true calling. She has a cat of her own and has 2 daughters.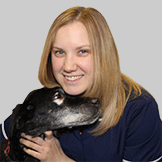 Rebecca Rowe BVetMed MRCVS- Director
Rebecca qualified as a vet in London in 1996 and has an interest in rabbits, small furries and preventative health care. She has 4 dogs and 1 three-legged cat, acquired from Wellcat, our local rescue centre.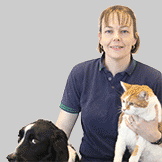 Emma Newcombe - Veterinary Nurse
Emma is one of our main theatre nurses and is a thorough and very caring nurse, with a special interest in cats. She has 3 cats of her own and works part-time around caring for her young daughters. She has been at the practice for since 1997.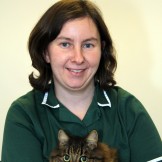 Angie Hopkins - Registered Veterinary Nurse
Angie started her veterinary nursing training with the practice in 1995 and has been here ever since. She also has a young daughter, as well as a dog and cat. Angie is the life and soul of the practice.
Stacey Stanier - Registered Veterinary Nurse
Stacey has been working as a vet nurse for over 12 years. She runs our nurse clinics and is a lovely calm, kind nurse with an efficient manner. Stacey has 3 cats at home and is married with a small son.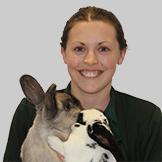 Clementine Thornton - Student Veterinary Nurse
Clem is a veterinary nursing student and is looking forward to qualifying. She also rides horses in her spare time.
Sarah Richards - Registered Veterinary Nurse
Helen Mouzer - Registered Veterinary Nurse
Lucy Flynn - Registered Veterinary Nurse
Bethan Morrison - Student Veterinary Nurse
Emily Rudge - Registered Veterinary Nurse
Liam Round - Kennel Assistant
Clarice Bromley - Receptionist
Danni Clews - Receptionist